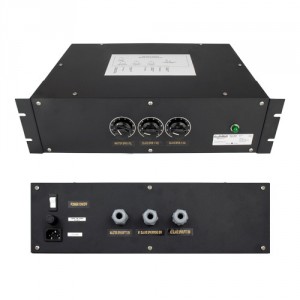 TBA
Guardian Telecom TBA Talk/Back Amplifiers are designed for safe, reliable and cost-effective communication. They provide easy to operate paging with the versatility of hands-free slave speakers.
Utilizing explosion proof slave speakers, Talk/Back units are very useful in hazardous areas where hands-free communication is required.
Guardian's TBA Talk/Back systems provide reliable point-to-point and point-to-multipoint communication in areas such as on drilling rigs between drill cabin/drill floor and monkey board, plus moon pool, mud tanks, etc.
TBA Talk/Back systems are also used extensively on ships and off-shore platforms where hands-free communication is required from slave-operator end.
CSA ("C" and "US") 1259267
CSA ("C" and "US") 1259267
For EXP, MLX 300 & MLX 350 Models
Class I, Div. 1, Groups B, C and D;
Class II, Div. 1, Groups E, F and G
• Canada: Class l Zone 1 Ex d llB+H2 T5
• United States: Class I Zone 1 AEx d(ia) llB+H2 T5; Class II Zone 21
For EXP-A, EXP-TBA, EXP-TBB, MLX 330, MLX 331, MLX 332 & MLX 300 Models
Class I, Div. 1, Groups B, C and D;
Class II, Div. 1, Groups E, F and G
• Canada: Class l Zone 1 Ex d llB+H2 T5
• United States: Class I Zone 1 AEx d llB+H2 T5; Class II Zone 21
CLASS 4818 02 – SIGNAL APPLIANCES – Audible – For Hazardous Locations
CLASS 4818 82 – SIGNAL APPLIANCES – Audible – For Hazardous Locations Certified to US Standards
CSA ("C" and "US") Certificate 1259267
Product Features
Easy master/slave operation
Only one amplifier required for master/slave(s) communication
2, 3, 4 or 5 channel versions available
Primary slave can be hands free (TBA20/30/40/50) or Push-to-Talk (TBA21/31/41)
External microphone or option to use master speaker as microphone
Hand or foot switch (not included) used with master to activate paging
Post announcement tone from master to slave option
120/230VAC or 24VDC powered (For details contact a Guardian Telecom representative)
Attenuation of master speaker when paging to prevent feedback
Seven models to select from

TBA20 2 Channel: Master/Slave, Primary slave can be hands free – Order number: P8600
TBA21 – 2 Channel: Master/PTT Slave, Primary slave can be Push-to-Talk – Order number: P8605
TBA30 – 3 Channel: Master/2 Slaves, Primary slave can be hands free – Order number: P8601
TBA31 – 3 Channel: Master/2 Slaves, Primary slave can be Push-to-Talk [Primary being PTT] – Order number: P8606
TBA40 – 4 Channel: Master/3 Slaves, Primary slave can be hands free – Order number: P8602
TBA41 – 4 Channel: Master/3 Slaves, Primary slave can be Push-to-Talk [Primary being PTT] – Order number: P8607
TBA50 – 5 Channel: Master/4 Slaves, Primary slave can be hands free – Order number:  P8603