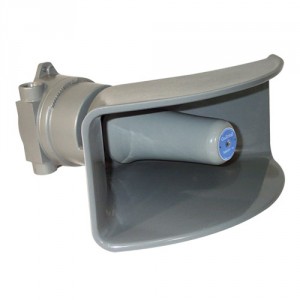 SR40/SR60
Guardian Telecom's SR40 Explosion Proof Unit can be setup as a loud speaker for paging applications, a loud ringer to signal incoming phone calls, or both functions can be combined in one device.
Guardian Telecom's SR60 is a high power Explosion Proof paging speaker.
---
Guardian Telecom Explosion Proof Speakers & Ringers meet rigorous demands of the highest hazardous area classifications. Intrinsically safe, they maintain appropriate safety standards while in environments where ignitable concentrations of flammable gases, vapors or liquids may be present under normal operation conditions.
Guardian Telecom manufactures supplies and distributes a wide selection of Explosion Proof, Hazardous Area, ATEX-IEC and General Area Ringers and loudspeakers from leading manufacturers around the world to meet the unique demands of Industrial Communication projects.
Guardian represents DNH, E2S, Federal Signal, MEDC and TOA, and has access to an extensive range of other world class leading manufacturers.
Guardian trained and qualified personnel work with customers to specify individual product or total project solutions and make informed purchasing decisions based on budget, technology, applications and relevant standards.
CSA 2309387 (LR 65547)
CSA
For SR-40 models
Class I, Groups B, C and D; Class I, Zone 1, Group IIB+H2;
Class II, Groups E, F and G; Class III.
Enclosure Type 3R. Temperature Code T5
For SR-60 models
Class I, Groups B, C and D; Class I, Zone 1, Group IIB+H2;
CLASS II, Groups E, F and G; Class III.
Enclosure Type 3R. Temperature Code T3C
CLASS 4818 02 – SIGNAL APPLIANCES – Audible – For Hazardous Locations
CSA Certificate Number 2309387 (LR 65547)
Product Features
Mounting allows directional adjustments
Projection horn included
Powder coated cast aluminum enclosure
User selectable output power taps
Threaded end cap for easy installation
13 different versions:
SR40 models
24V Ringer – Order number: P7240
24V 15 Watt Paging Speaker/Ringer – Order number: P7241
230V Ringer – Order number: P7243
230V, 15 Watt Paging Speaker/Ringer – Order number: P7244
30 Watt 70V Paging Speaker – Order number: P7245
30 Watt, 70V Paging Speaker with D.C. Filter Circuit for monitoring line integrity – Order number: P7246
30 Watt, 16 Ohm Paging Speaker – Order number: P7247
12V Ringer – Order number: P7248
12V, 15 Watt Paging Speaker/Ringer – Order number: P7249
120V Ringer – Order number: P7250
120V, 15 Watt Paging Speaker/Ringer – Order number: P7251
SR60 models
60 watt, 70V Paging Speaker – Order number: P7260
60 watt, 16 Ohm Paging Speaker – Order number: P7262