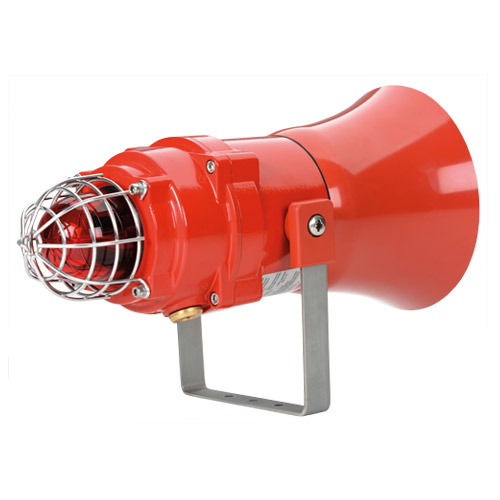 P-BExCS110-05/P-BExDCS110-05
Flameproof P-BExCS110-05 combination alarm sounder and Xenon beacon are suitable for Zone 1 & Zone 2 applications. P-BExDCS110-05 versions are also suitable for Zone 21 & 22.
Sound level outputs are up to 117dB(A) at 3.28' (1 m) with a choice of 32 alarm tones and 3 remotely selectable stages. Sounder & Beacon may be connected from a single supply for simultaneous operation or from separate supplies for independent operation.
---
Guardian Telecom's ATEX-IEC approved series of speakers were designed for use both indoors and outdoors within ATEX-IEC certified hazardous areas.
---
Guardian Telecom manufactures supplies and distributes a wide selection of Explosion Proof, Hazardous Area, ATEX-IEC and General Area Ringers and loudspeakers from leading manufacturers around the world to meet the unique demands of Industrial Communication projects.
Guardian's represents DNH, E2S, Federal Signal, MEDC and TOA, and has access to an extensive range of other world class leading manufacturers.
Guardian trained and qualified personnel work with customers to specify individual product or total project solutions and make informed purchasing decisions based on budget, technology, applications and relevant standards.
Russian EX - Certificate С-№.RU C-GB.MH04.B.00048
С-№.RU C-GB.MH04.B.00048
(E2S)
Russian Fire Certificate №.С-GBПБ25.В.01082
Russian Fire Certificate №.С-GBПБ25.В.01082
E2S
Visit manufacturer's website or contact manufacturer for details.
Product Features
Manufactured by E2S
Zone 1 and Zone 2 applications
IP66 & IP67 Ingress protection
P-BExDCS110-05 versions are also suitable for Zone 21 & 22
Automatic synchronization on multi-beacon & sounder systems
Lens colors: Amber, Blue, Clear, Green, Red & Yellow
Beacons can be set to 'flip-flop' alternating mode with other units on multi-beacon systems
Xenon tubes mechanically secured against shock & vibration
Marine grade copper free LM6 aluminum
Phosphate & powder coated housing finish
Ratchet adjustable stainless steel 'U' bracket
'Programmable' version available:

45 alarm tones
4 remotely selectable stages
Any tone can be assigned to any stage
User configurable continuous frequency tone

Operating temperature -58°F to +158°F (-50°C to. +70°C)
Two models to select from:

P-BExCS110-05 – Flameproof, combination alarm sounder and Xenon beacon suitable for Zone 1 & Zone 2 applications – Order number: P-BExCS110-05
P-BExDCS110-05 – combination alarm sounder and Xenon beacon suitable for Zone 21 & 22 – Order number: P-BExDCS110-05