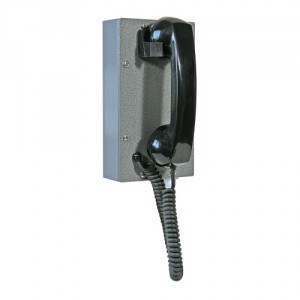 SCR-11-H
Guardian's SCR-11-H Hazardous Area Indoor Industrial Steel Compact analog ringdown telephone with curly handset cord is designed for use in Class I, Division 2 industrial applications and is ideal for noisy areas.
Lift the handset and PBX programming routes the call to its assigned location.
SCR-11-H models are engineered to deliver reliable, high quality communications in moderately harsh environments where standard telephones are not suitable.
CSA ("C" and "US") 1545708
CSA ("C" and "US")
Class I, Division 2, Groups A, B, C and D;
CLASS 4838 81 – TELECOMMUNICATION EQUIPMENT – For Hazardous Locations – Certified to US Standards
CLASS 4838 01 – TELECOMMUNICATION EQUIPMENT – For Hazardous Locations
CSA ("C" and "US") Certificate 1545708 (LR 6557)
FCC TCB
Grant of FCC Equipment Certification
Certification Under CFR 47 Part 68 – Connection of Terminal Equipment to the telephone network
Subject to the provisions of Part 68 of the FCC Rules and Regulations. Certification is Hereby Granted for the equipment listed herein. Any change in model number or trade name requires amendment of certification. Each piece of equipment bearing the listed trade name(s) and model number(s) shall be labeled in accordance with the provisions of Section TSB168.
FCC TCB Certificate HQHCAN-22517-TE-E
Product Features
Direct dial to an assigned location
Curly handset cord
Heavy duty industrial volume control handset
Volume control to ensure communication in noisy environments
Encapsulated circuitry impervious to water, condensation and dust
16 gauge, corrosion protected, steel enclosure with powder coat finish
Rust and corrosion resistant stainless steel hardware
Electret noise reducing microphone
Magnetic reed hook-switch reduces moving parts subject to wear
Service temperature range from -40˚ to +140˚F ( -40˚ to +60˚C )
Surge arrestor to prevent voltage spike damage
Hearing aid compatible
Electronic ringer for reliability
Modular parts for easy service
1/2" NPT Conduit hub
Order Number: P6962