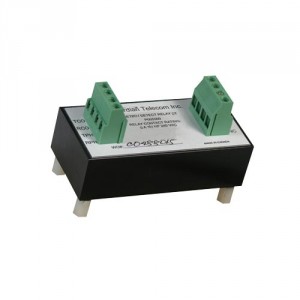 Off-Hook Relays
In a telephone based paging system, a telephone situated near a paging speaker can create acoustic feedback that makes paging impossible. Off-Hook Relays automatically disable paging speakers near the telephone to eliminate this problem.
Off-Hook Relays can also trigger signaling devices when, for example, an emergency phone is in use.
---
Guardian Telecom Telephone Enclosures & Accessories are designed with the versatility to enhance or replace components or workings.
Product Features
All relays are encapsulated in polyester epoxy resin
Maintaining safety standards may require use of special wiring conduits or other considerations
Electrical Performance
Line Voltage       48 Volt 24 – 56 VDC
24 Volt ≈ 24 VDC
Relay Rating Maximum Load       5 Amps
Six Off-Hook Detect Relay Models to select from:

48V Off-Hook Detect Relay – Order number: P7227
24V Off-Hook Detect Relay – Order number: P7228
24V Off-Hook Detect Relay/Weather Proof Enclosure – Order number: P7229
24V Off-Hook Detect Relay/Explosion Proof Enclosure – Order number: P7231
48V Off-Hook Detect Relay/Weather Proof Enclosure – Order number: P7232
48V Off-Hook Detect Relay/Explosion Proof Enclosure – Order number: P7233

Weather Proof and Explosion Proof enclosures available