ATEX
ATEX Knowledge Base Topic
Guardian Telecom designs and manufactures and distributes Hazardous Area telephone equipment and speakers that meets the stringent ATEX requirements and EN standards for items that will be put into service within the European Union (EU).
ATEX is the common name given to a set of European Directives relating to Hazardous Area Installations (Flammable Atmospheres) that takes its name from the French "Atmosphères Explosibles". ATEX Directives have been mandatory since July 1, 2003.
Hazardous Areas
According to the EN standards description, Hazardous Areas are when Potentially Explosive Atmospheres exist where there is a risk of explosion due to mixtures of gas/air, vapour/air, dust/air or other flammable combinations.
Process plants, refineries, oil and gas platforms etc are divided into Zones (European and IEC method) or Divisions (North American method) according to the likelihood of a potentially explosive atmosphere being present.
The following standards are used to define the classification for Guardian Telecom Zone 1 products:
EN 60079-0:2006: Electrical Apparatus for use in Zones 0, 1 & 2 Haz Loc – General Requirements
EN 60079-7:2007: Electrical Apparatus for use in Zones 0, 1 & 2 Haz Loc – Increased Safety "e"
EN 60079-11:2007: Electrical Apparatus for use in Zones 0, 1 & 2 Haz Loc – Intrinsic Safety "i"
EN 60079-18:2004: Electrical Apparatus for use in Zones 1 – Encapsulation "m"
EN 60950-1:2006: Information Technology Equipment – Safety
Table 1. Comparing between Zones and Divisions
European & IEC Classification
Definition of Zone or Division
North American
Classification

An area in which an explosive mixture is continuously present or present for long periods

Class I Division 1
(gases)

Class II Division 1
(dusts)

An area in which an explosive mixture is likely to occur in normal operation

Class I Division 1
(gases)

Class II Division 1
(dust)

An area in which an explosive mixture in not likely to occur in normal operation and if it occurs it will exist only for a short time

Class I Division 2
(gases)

Class II Division 1 & 2
(dusts)

Class III Division 1
(fibres)

Class III Division 2
(fibres)
Note: that many (but certainly not all) countries outside of North America use the IEC Standards as a basis for their own national standards. 
Guardian Zone 1 Phone Markings
Representation of typical Guardian Telecom ATEX, Zone 1 markings
The content in this section presents general information describing the classification systems that Guardian Telecom designs, manufactures and markets telephone and paging system products to, including ATEX, NEC, CEC and IEC.
All information is for general reference purposes only. All applicable local and national regulations and practices concerning Explosion Proof and Hazardous Area communications equipment must be strictly followed and adhered to.
For detailed information refer to published documents on hazardous location definitions and installation requirements presented by: 1) NEC®, 2) CEC Canadian Electrical Code, 3) IEC
Understanding ATEX Markings
ATEX manufactured equipment is marked to identify the hazardous area category that it can be used in.
An ATEX mark is made up of three components:
Figure 2. ATEX mark components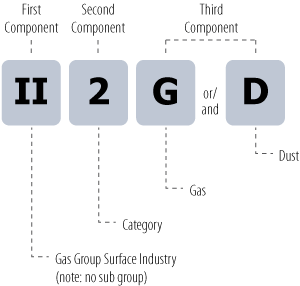 First Component
This is the gas group identified by the Roman Numeral II: it indicates that it is intended for use in a surface industry.
Second Component
The second component is the category identifier.
There are three categories: 1, 2 and 3.
Categories equate with zones:
Category 1 equipment is suitable for Zone 0 or Zone 20
Category 2 equipment is suitable for Zone 1 or Zone 21
Category 3 equipment is suitable for Zone 2 or Zone 22
Third Component
The third component is the explosive atmosphere which could be formed by gases, vapors or combustible dusts or a combination of both.
An atmosphere is identified by G for Gas or D of Dust. It can also be a combination of both, i.e. GD.
Approval Marks
EX – European Community Mark
Introduced in 1975 the European Community Mark is used to identify equipment which is designed to be used in potentially explosive* atmospheres.
It identifies to each member state that the marked equipment is designed in accordance with the various standards and was intended to afford free trade around all European Community member states.
*Does not apply to equipment designed for work underground in mines susceptible to fire damp.
CE – Community European Mark
The CE Community European Mark is intended to allow free trade between member states.
Zone System Marking
EC type certificates are issued by a notified body. Certificates indicate to the user that equipment has been assessed against the relevant regulations in use at the date of issue. Each certificate has its own unique number which are identified as shown in the following example.
Figure 1. Example Zone system marks