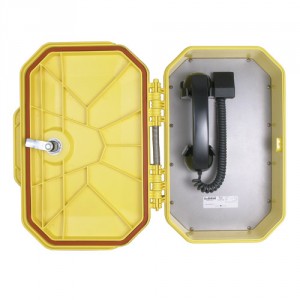 WTR-11
Guardian's WTR-11 Outdoor Industrial Watertight analog ringdown telephone with curly handset cord offers maximum efficiency under extreme environmental conditions.
Lift the handset and PBX programming or an optional Autodialer routes the call to its assigned location.
The sturdy & rugged thermoplastic resin enclosure with a spring loaded door protects the internal circuitry against wind blown dust, rain, corrosion, splashing and high pressure water.
With Type 4X & IP66 ratings this is an ideal telephone for harsh conditions.
FCC TCB
Grant of FCC Equipment Certification
Certification Under CFR 47 Part 68 – Connection of Terminal Equipment to the telephone network. Subject to the provisions of Part 68 of the FCC Rules and Regulations. Certification is Hereby Granted for the equipment listed herein. Any change in model number or trade name requires amendment of certification. Each piece of equipment bearing the listed trade name(s) and model number(s) shall be labeled in accordance with the provisions of Section TSB168. FCC TCB Certificate HQHCAN-22517-TE-E
Product Features
Direct Call Ringdown Telephone
Curly handset cord
Water/dust-tight thermoplastic resin enclosure, Type 4X & IP66
Encapsulated circuitry impervious to moisture, dust and corrosion
Waterproof connections & stainless steel fittings for longer life
Corrosion protected and powder coated steel faceplate
Magnetic reed hook switch to reduce parts subject to wear
Surge arrestor to prevent voltage spike damage
Heavy duty G type industrial handset
Electret noise reducing microphone for clear communication
Service temperature range from 40˚ to +140˚F ( -40˚ to +60˚C )
Modular parts for easy service
Integrated mounting feet
Hearing aid compatible & receiver volume adjustment
Electronic ringer for reliability
Tone or pulse dialing offers universal configuration
Easily connects to any single line analog CO or PBX telephone line
Handset retainers to maintain on-hook status
Spring loaded door
Easy support drill guides for top & bottom mount glands
Order number: P5300