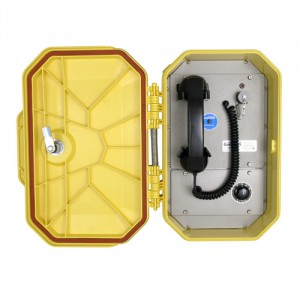 PTO
Guardian Telecom's PTO Page/Talk Outdoor station provides easy to operate paging with the versatility of one or five talk lines.
Housed in a rugged, thermoplastic resin exterior enclosure, PTO stations have been designed for use in Class I & II, Division 2 hazardous outdoor areas.
Individuals can be paged from any station and two or more people can communicate simultaneously on any available talk line.
CSA ("C" and "US") 1259267
CSA ("C" and "US") 1259267
For EXP, MLX 300 & MLX 350 Models
Class I, Div. 1, Groups B, C and D;
Class II, Div. 1, Groups E, F and G
• Canada: Class l Zone 1 Ex d llB+H2 T5
• United States: Class I Zone 1 AEx d(ia) llB+H2 T5; Class II Zone 21
For EXP-A, EXP-TBA, EXP-TBB, MLX 330, MLX 331, MLX 332 & MLX 300 Models
Class I, Div. 1, Groups B, C and D;
Class II, Div. 1, Groups E, F and G
• Canada: Class l Zone 1 Ex d llB+H2 T5
• United States: Class I Zone 1 AEx d llB+H2 T5; Class II Zone 21
CLASS 4818 02 – SIGNAL APPLIANCES – Audible – For Hazardous Locations
CLASS 4818 82 – SIGNAL APPLIANCES – Audible – For Hazardous Locations Certified to US Standards
CSA ("C" and "US") Certificate 1259267
Product Features
Water/dust tight thermoplastic resin enclosure, Type 4X & IP66
The common hand set amplifier unit is compatible with either single line or five line systems
The common hand set amplifier unit is compatible with either single line or five line systems
Power supply 24 VDC or 24/120/230 VAC
Approved for Class l & ll, Division 2 hazardous area
Corrosion protected & powder coated faceplate
External ambient noise sensor adjusts speaker volume automatically
Off hook status LED indicator
Magnetic hook switch provides maximum durability
Push-to-Page switch on handset
Noise canceling microphone
Compatible with most other manufacturer's systems
Eight models to select from

PTO Single Line Paging Station, Ambient Noise Sensor – Order number: P5568
PTO Five Line Paging Station, Ambient Noise Sensor – Order number: P5576
PTO Single Line Paging Station, Ambient Noise Sensor, Headset Receptacle* – Order number: P5577
PTO Five Line Paging Station, Ambient Noise Sensor, Headset Receptacle* – Order number: P5529
PTO Single Line Paging Station – Order number: P5569
PTO Five Line Paging Station – Order number: P5575
PTO Single Line Paging Station, Headset Receptacle* – Order number: P5578
PTO Five Line Paging Station, Headset Receptacle* – Order number: P5528
* Models with Headset Receptacle are not certified for use in Hazardous Areas
Controls
Speaker volume output (adjustable from front panel)
Ambient noise level sensor (optional)
Microphone gain
Receiver level
Side tone adjustment
Options
P5540 Push-to-Page Headset
VR-WTE Vandal Resistant Faceplate Screws