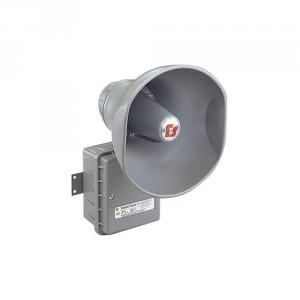 P-AM300GCX/P-AM302GCX
Federal Signal model P-AM300GCX is a rugged transformer coupled, re-entrant speaker for use in public address or paging applications. This speaker features rugged cones and projectors constructed of spun aluminum.
The wiring connections are enclosed in a dust and moisture-proof, die-cast aluminum compartment. All external surfaces are finished with a gray powder coat paint.
---
Hazardous Area Speakers & Ringers carried by Guardian Telecom meet the rigorous demands of applicable environments while maintaining the appropriate safety standards. Hazardous Areas are divided into two divisions:
Division 1
"An area where ignitable concentrations of flammable gases, vapors or liquids can exist all of the time or some of the time under normal operation conditions." (NEC/CEC)
Division 2
"Where ignitable concentrations of flammable gases, vapors or liquids are not likely to exist under normal operation conditions." (NEC/CEC)
---
Guardian Telecom manufactures supplies and distributes a wide selection of Explosion Proof, Hazardous Area, ATEX-IEC and General Area Ringers and loudspeakers from leading manufacturers around the world to meet the unique demands of Industrial Communication projects.
Guardian's represents DNH, E2S, Federal Signal, MEDC and TOA, and has access to an extensive range of other world class leading manufacturers.
Guardian trained and qualified personnel work with customers to specify individual product or total project solutions and make informed purchasing decisions based on budget, technology, applications and relevant standards.
CSFM Approved
CSFM
California Department of Forestry & Fire Protection, Office of the State Fire Marshal, Fire Engineering – Building Materials Listing Program
7135 – AUDIBLE DEVICES
Listed as audible devices for use with separately listed compatible fire alarm control units.
Note: If the distinctive three-pulse Temporal Pattern Fire Alarm Evacuation signal (for total evacuation) in accordance with NFPA 72, 2002 Edition is required, the appliance must be used with a fire alarm control unit that can generate the temporal pattern signal.
Listing Number 7135-0811:0003
UL 1480 Listed
UL 1480 Listed
1.1 These requirements cover speakers for indoor and/or outdoor use in dry, damp, wet, or underwater locations and are intended for one or more of the following:
a) Fire alarm systems in accordance with the National Electrical Code, NFPA 70, and the National Fire Alarm Code, NFPA 72, providing emergency voice/alarm occupant notification;
b) Commercial and professional audio systems providing non-emergency sound reinforcement and reproduction in accordance with NFPA 70 (this includes equipment for institutional, industrial use);
c) Non-fire emergency voice-warning systems in accordance with NFPA 70; examples of non-fire emergency-warning systems include, but are not limited to:
1) Critical process monitoring (nuclear plant, oil refinery, hazardous chemical processing);
2) Distress alert systems (help for handicapped, for life safety, for rape, for robbery);
3) Crowd control in public places (sporting arena, theater, shopping mall, transportation center); and
4) Non-fire emergency voice-systems covered by the Life Safety Code, NFPA 101.
d) Underwater speakers in accordance with Article 680 of NFPA 70. An underwater speaker is not to be used in a fire alarm system or as an emergency (non-fire) voice-warning system.
Visit manufacturer's website or contact manufacturer for details.
UL and cUL Listed and CSA Certified - Hazardous Area
Class l, Division 2, Groups A, B, C and D
Class ll, Division 2, Groups F and G
Class lll
Enclosure rating; Type 4X
Visit manufacturer's website or contact manufacturer for details.
Product Features
Manufactured by Federal Signal Corporation
Rated for Class I, Division 2; Class II, Division 2; Class III
Eight ohm
15 watt
Re-entrant horn design
Rugged cones and projectors constructed of spun aluminum
All external surfaces are sealed with a gray powder coat paint
Wall mount
60 degree sound dispersion pattern
Two 1/2 inch conduit openings
Type 4X enclosure
Operating temperature -40°F to +151°F (-40°C to +66°C)
UL 1480 approved and cUL listed
Order number: P-AM15XD2