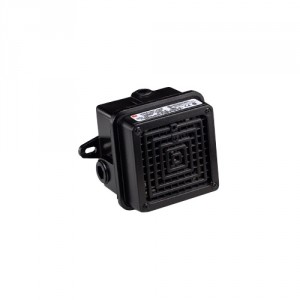 P-350WBX
UL and cUL listed and CSA certified, the Federal Signal model P-350WBX is a Division 2 Vibrating Horn rated for Class I, Division 2; Class II, Division 2; Class III, Type 4X speaker for use in public address or paging applications.
Capable of producing coded blasts or sustained tones, Federal Signal's Vibratone® horns are excellent for general alarm, start/dismissal, coded paging and process control signaling in areas where their sound output exceeds ambient noise levels.
The P-350WBX features a die-cast zinc housing with a corrosion-resistant polyurethane finish. The rugged outer grille resists vandalism without reducing sound output.
Accommodates surface, flush or semi-flush mounting on walls, panels, and in cabinets.
---
Hazardous Area Speakers & Ringers carried by Guardian Telecom meet the rigorous demands of applicable environments while maintaining the appropriate safety standards. Hazardous Areas are divided into two divisions:
Division 1
"An area where ignitable concentrations of flammable gases, vapors or liquids can exist all of the time or some of the time under normal operation conditions." (NEC/CEC)
Division 2
"Where ignitable concentrations of flammable gases, vapors or liquids are not likely to exist under normal operation conditions." (NEC/CEC)
---
Guardian Telecom manufactures supplies and distributes a wide selection of Explosion Proof, Hazardous Area, ATEX-IEC and General Area Ringers and loudspeakers from leading manufacturers around the world to meet the unique demands of Industrial Communication projects.
Guardian's represents DNH, E2S, Federal Signal, MEDC and TOA, and has access to an extensive range of other world class leading manufacturers.
Guardian trained and qualified personnel work with customers to specify individual product or total project solutions and make informed purchasing decisions based on budget, technology, applications and relevant standards.
UL and cUL Listed and CSA Certified - Hazardous Area
Class l, Division 2, Groups A, B, C and D
Class ll, Division 2, Groups F and G
Class lll
Enclosure rating; Type 4X
Visit manufacturer's website or contact manufacturer for details.
Product Features
Manufactured by Federal Signal Corporation
Available in 120VAC and 240VAC
Effective range of 200 feet (60.96m)
Sound output level is 100dBa nominal at ten feet 110dBa @ 3.28 ft. (1m)
For coded or sustained tones
Produces 100dBa @ 10' (3.05m)
Type 4X enclosure
UL and cUL Listed and CSA certified
Operating Temperature -65°F to +150°F (-54°C to +66°C)
Order number: P-350WBX