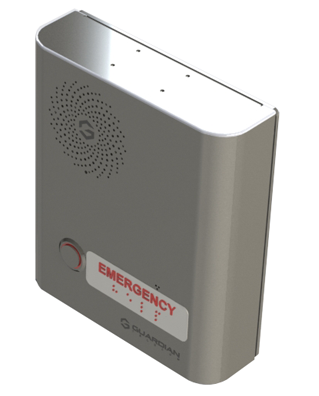 HDE-20
Guardian Telecom's new and updated HDE-20 Wall Mounted telephone provides a two-way link to assistance through analog, half-duplex telephone transmission. A call may be initiated from the telephone or from the monitoring station. This model is compatible with OGP Series housings.
HDE telephones are intended for use in public areas where direct assistance or hands-free communication is required.
HDE telephones may be programmed to autodial two numbers or to ringdown through a PABX. These phones also provide the capability of monitoring the status of each unit from a remote location, informing personnel of a malfunction.
Industry Canada – 1012A-601B
Hearing-aid Compatible Equipment
Other
Telephone Receiver Volume Control
Registration 1012A-601B
Product Features
HDE models with an emergency Push Button feature – depress once automatically rings designated number(s) to summon help.
HDE 31 & 21 series have a keypad to allow the user to manually dial numbers.
316 Stainless Steel – 16 Gauge with #4 Brushed Finish, corrosion resistant enclosures.
Remote programming – allows you to manage your emergency network from a central location.
LED – provides visual confirmation of call connection.
Control Relays – primary relay standard on all models, 2 additional auxiliary relays on advanced models.