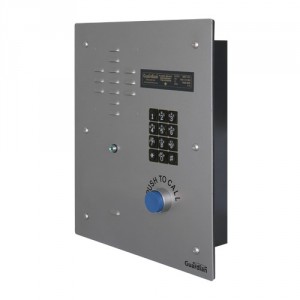 HDE-1100-V
Guardian Telecom's SIP-enabled HDE-1100-V Help Point VoIP telephone is a recessed mount unit with a single push-to-call button, 12 digit teleseal keypad and a network configurable auxiliary relay which is standard to all HDE-V models.
HDE-V telephones are intended for use in public areas where direct assistance or hands-free communication is required.
Calls can be initiated from the telephone or from the monitoring station. HDE-V VoIP telephones are capable of remote monitoring, reporting the status of each unit and informing personnel of a malfunction.
FCC Part 15† Class A
FCC
This device complies with part 15 of the FCC Rules. Operation is subject to the following two conditions:
(1) This device may not cause harmful interference.
(2) This device must accept any interference received, including interference that may cause undesired operation.
Industry Canada – 1012A-601B
Hearing-aid Compatible Equipment
Other
Telephone Receiver Volume Control
Registration 1012A-601B
VOIP SUPPORT / TOOLS / FIRMWARE
Product Features
IP Features

PoE 802.3af enabled (Power-over-Ethernet) or alternate power source
Compatible with most SIP-based IP-PBX servers that comply with SIP RFC 3261
Network web management
Guardian Discovery Utility makes it easy to detect, locate and launch the web based configuration screens
Product self diagnostic testing available through web interface
Network adjustable earpiece volume and microphone sensitivity
Network downloadable firmware
Remote programming – allows you to manage your network from a central location

Product Features

Calls may be initiated from the phone or from the monitoring station
Push-to-Call Button – depress once automatically rings designated number(s) to summon help
12 digit teleseal keypad allows the user to manually dial numbers
Speaker – hands free operation
LED – provides visual confirmation connection has been made
Doubles as a Paging Speaker
Optional ADA (American Disability Act) compliant label HELP
Control Relay – network configurable auxiliary relay standard on all models
Night ringer mode – refer to product manual
Remote programming – allows you to manage your emergency network from a central location
Powder coated, corrosion resistant enclosure
Recessed installation
Service temperature range -22° to +140°F (-30° to +60°C)
Order number: P6996