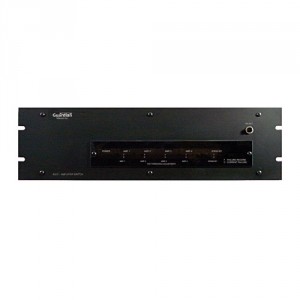 AS12
Guardian Telecom's AS12 Automatic Amplifier Switch continuously monitors amplifier signals and automatically switches to a standby amplifier if one fails. Capable of monitoring four amplifiers simultaneously, the AS12 instantly detects faults, automatically switches to a stand-by and visually indicates amplifier status.
Clearly visible LED's on the front panel indicate the status of each amplifier so any fault can be quickly identified and corrected. The AS12 also maintains historical visual indicators for tracking the amplifier failure.
As a part of an integrated industrial emergency/communications system, the AS12 ensures uninterrupted communication in the event of an amplifier failure.
Product Features
Simultaneously monitors up to four paging amplifiers to integrate one stand-by amplifier
Instantly detects and indicates amplifier failure
Automatically transfers output from a failed amplifier to the stand-by amplifier
Visually indicates amplifier status
Maintains historical visual indicators
Automatically resets amplifiers to normal once a fault is corrected
Suitable for 70 volt audio amplifiers up to 1200 watts
Compact – fits on standard 19" equipment rack
Order number: P8300