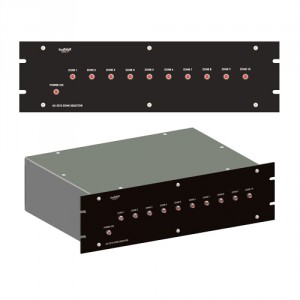 AS-ZS10
The AS-ZS10 Zone Selector is a high power switching unit that is used in conjunction with a logic control unit such as the Bogen PCM2000. It routes amplified page audio out to 10 selectable zones.
Power handling is 1000 Watts per zone. Activated zones are displayed by front-mounted LEDs.
The AS-ZS10 Zone Selector is one component in Guardian Telecom's full line of reliable, hard working PA/GA paging system products – all designed for easy installation and connectability.
The AS-ZS10 can be ordered separately or as part of an integrated system that includes distribution amplifier, amplifiers and multi-tone alarm generator.
Guardian's trained representatives will work with you to customize a safe comprehensive alarm and public address system for your operations.
Product Features
16 gauge steel enclosure ─ zinc dichromate plated and powder coated
10 gauge steel faceplate ─ zinc dichromate plated and powder coated
Compact 19" rack mount ─ three rack units (3U)
Front mounted zone status indicator LEDs
1000 Watt power handling (per zone)
10 zone switching capable
Order number: P9004