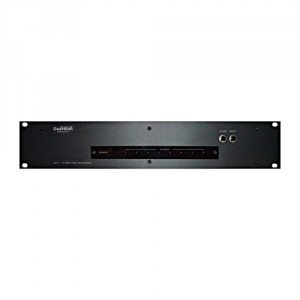 AG17
The Guardian Telecom AG17 is a reliable ten-tone signal generator designed to work with Page/Talk systems and Public Address/General Alarm systems.
Alarm tone, priority, duration and triggering are all user programmable to meet specific operating safety and workplace conditions.
An Audio override facility also allows voice-paging during tone activation, giving you the ability to deliver voice instructions through Page/Talk intercom stations or other paging sources by completely muting or attenuating the active tone.
Product Features
Ten tone alarm library
User programmable microprocessor to customize tone priority, duration, triggering, muting and attenuation
Eight channels for output signal priority
Logic output mirrors control inputs
Momentary or latching inputs
120/230 VAC
LED alarm activation indicators
Output level control
Compact − fits on a standard 19" equipment rack − 2 rack units (2U)
Audio override for Page/Talk announcements
Two models to select from

Multi-Tone Generator – Order number: P5960
Multi-Tone Generator – No Relay – Order number: P5970